(Im Rping as S rank Taku, you as S rank Mizukage)

There was a disturbance in the atmosphere of Kiri, Village Hidden in the Mist. Something that did not belong, that was not native to the land, had made its way into the heart of the place, and its presence was not unnoticeable. The villagers, both citizens and shinobi alike had been searching in their hearts and with their eyes to discover the source, but had been unable to pinpoint what it was, or what it could be. There were several who chose to stay in there homes, fleeing away from the power which was almost suffocating them, not realizing that all to often, the source was right in front of them. It was not trying to conceal itself, it did not conceal itself in any fashion, but it was its nature to go undetected, even when everyone knew it was there. It was like a heavy cloud filling the streets and alleyways, brushing the skin of every person and weighing down unto their body like a thousand boulders threatening to steal their very breath away from their chest and suffocate them. There was no question, whatever it was, it was a deadly force of sheer power. But there was a cold aura around it as well. This was not to say it was not a kind aura, but it was a strangely calm and not overbearing aura, though its effects on the locals was fairly unwelcome. It was more then enough to let you know it was there, much more, but not to the point of breaking someone just from the experience. This meant it was controlled.

In fact, it was a man at the source of this strange flow in the villages streets. A man, who as expected, was not meant to be there. Yet he had been summoned, and so he had come. He was native to the land of sand, calling it his home for some many odd years, taking the throne as its Kazekage for a time, before leaving in search of a better truth for the world. He was known to anyone who was important in the ninja world, and to the civilians, he was just a myth, a covered up truth to protect them from his story which was not one that could be accepted by society as a good or a wrong, and so was cast aside as non existent. But to those who did know of his name and reputation, he was a very real threat. A threat to their very way of life.

He could feel his summoner atop the very buidling before which he stood. It was a pitiful chakra source compared to his own, though then again, everything was. The pure black eyes that lay rested in his skull told the whole story. He was a part of the accursed and long dead clan of chakra, he as a Sookato. There were only two who had been around to see the last decade, and now even only one of that father son pair remained. Unfortunately, it was the father that still stood strong. He was the last of his kind, no longer holding any drive or desire to revive his blood line. His kind were meant to go extinct with the day of his passing, and he would not try to contradict fate. for as to do such a thing. would be to put an impending doom upon himself. He had no wishes for that, for it would fruitless no matter what, and served no greater purpose, while his continuing as fate dictated, could hold untold fortunes for all.

Taku ran a slender hand through his trailing black hair, pushing the two long locks out of his face and back sideways, tucked behind his ear. His fingers trailed on a white hair peace which was the cause for the two long locks, a heirloom to his family, as was the silk scarf wrapped around his neck. He wore a black gi shirt with a white vest over top and long black silk pants. He was a noble man, but he was clearly a warrior as told by the summoning scroll tucked behind his belt and the two swords at either of his hips. He was clearly a shinobi, but to what end his means would meet, or to his style or intentions, were hidden by a calm and expressionless face.

One instant the man stood at the base of the building, and the next he stood up on the flat roof top where his opponent did wait. The movement caused the black locks to fall back out of place and across his face. Taku made no motion to replace them, for battle was about to ensue, and the way one looked was not important. A moment ago he had been a civilian, a tourist, and now he was here to aid in another mans efforts, though his true intentions did nothing of the sort. Across from him, standing along side the other edge of the building, stood the Mizukage, Mikami, staring at him from almost 50 meters away, a vast distance for a building. In fact, Taku could not make out his finer features, but it was clearly the kage, he could tell by the chakra that radiated from him, it was the same chakra that tainted the note which had been sent to him.

He had been told that it was to be simply a good display fight, so that the people of the village could see that their kage was still strong, and that so long as he did not harm Mikami, he would be allowed to leave unscratched. He knew better then that.

You may have called me here to increase your declining reputation, but I know you mean to also exterminate me, a threat to your life style. Dont think I am foolish enough to think that you would pass up such an opportunity to kill me. By calling me here today, you have called upon a battle to the death. He called out to his waiting opponent, the one who was about to fall by either his blade, or the secret weapon he had hidden upon his arm.
It had been and was Mikami's decision to fight a total stranger, but it didn't really matter to him. His comrades style of fighting, the one he was learning and the one he was picking up on everyday was useful to him. His eyes were trained now, they were almost like tiny dots, examining every opening that they could. Of course he wasn't the best with it, but he had surely used enough of it to change his style drastically. After being beat by his comrade he no longer felt powerful, no longer felt the need to command and he honestly felt weaker. But as a child, Mikami always loved training and working on his physical strength, which was beast-like. The fact that he was weak, the fact that there was someone alive and around that was stronger than him, that had showed him the way of defeat did not feel like a bad thing. It gave him the proper motivation to come back stronger, the proper motivation to beat every single opponent that had beaten him.

Especially those Shikyo. The hatred within his heart for the Shikyo was like a deep red burning ember, falling onto a pile of dead whithered grass, only being strengthened and heated more and more as the wind from the fall caused it to grow more intensely. The fire in his body, fueled and warmed the giant monster which was lurking in everyone, a monster called hatred. No longer cold, dark and alone, Mikami stood toe to toe with his hate and embraced it deeply. In it he felt he could find the power to destroy the Shikyo that betrayed him. It was the hate of the Shikyo clan that had led him down this path, and if it was hate they were serving, Mikami would gladly dish it back to them. He would gladly crush the heads of their children, gladly maim the faces and breast of their women so they could not be looked upon in beauty and he would gladly kill every single male, so the clan could not rise again. He would jump at the chance to close the book on the Shikyo.

But he wasn't lucky enough to do that today. His chances of doing that were rather slim. Today he'd picked another name, someone called "Sookato". To take up in arms with. This would be training for him to say the least, even if it was between S Ranks. He didn't plan to lose, but he did plan to let some of his hatred out. Mikami could sense a change in his ki, he could sense a different power lurking within it. A slight color change, nothing powerful at all, a tiny sliver of red sometimes ran down his arms, every now and then. To the naked eye it would appear nothing as a varicose vein, nothing dangerous. After checking his body in his typical jounin attire, Mikami fiddled with a set of special explosive notes and metal wire, making a small contraption that would help him later on.

After finishing a deep voice arose from nothingness, and Mikami prepared himself. It was none other than his opponent. "Kill you? You're only dead if you leave yourself open to be dead. I'm not going to come after you with haste. The moment you mess up and decide to make the wrong move is the moment you'll be dead. I'm not fucking around either.... So come at me like you want to kill me, because if you don't you will surely pay with your life." Mikami meant every word, even though his type of speech was formal.

Head was dead serious.

_________________
"When I'm done with you and your pathetic shortcomings I'm going to saunter right on over to everyone and everything you have ever cared about and extinguish their lives slowly and painfully... Then I'm coming back for YOU." - Sally
The words spoken by the kage were nothing, not even a slight bit of worrisome. Some standard attempt to be formal to show an attempt at respect, yet also a small warning to try and threaten. Such verbal tactics fell on deaf ears where Taku was concerned. He cared not for verbal communication during battle as it was all just a macho display and he had no need for such foolery. It was unneeded, yet a part of himself couldnt repress thinking
Who ever said that I expected it to be my life that was ended.
He had absolutely no intentions of leaving here in a spiritual form. He had nearly walked that path once and was not keen to walk it again any time soon. He still had work to do. The scary part was not living anymore, it was knowing he still had work to do and would be unable to finish it as a ghost.
He was surrounded by his natural element, that was good. Water was abundant everywhere here, which was good. That meant he had two advantages. He favored using water, and he was full to the brim, as always, on Sookato power, a chakra so devastating, nearly nothing in existence was able to stand against it. He had a lot of tools at his disposal now, then again, he knew nothing of what the enemy could do, so getting complecant was a bad idea. He could read the enemies chakra levels and tell that they were high, though he could not get a grasp on how much exactly he had in stock, it was a decent bit, though not near his own. A sookato would never have less then another human, aside from maybe a rinn'gan user but that dojutsu was a joke.
At current there was only one problem. The vast distance. He already had a jutsu he wanted to use, to kick this off at least, but he could do virtually nothing effective from this far away. He would take care of that with ease however. It was a simple ninja trick. But he would prepare before hand.
With lightning speed and precision, Taku made the neccesary handsigns for a jutsu he had not used all that often. It was one he had recently picked up, but the princible of it was much to his liking. Its purpose was to simply split apart flesh bone and skin and any other deffenses that tied a human to the living realm. To make things better, it was a simple C rank jutsu, only limited by its 15 meter range. And it could only travel in a straight line. That was to be taken care of immedietly.
The body flicker was not a technique he used often, and only when he needed to get closer to the opponent, never to avoid an attack. And only rarely would he ever use Kawarmi. With a quick motion he he changed his distance from the opponent to 10 meters, instead of the vast 50, to far to even be considered far. The last handsign had been made a moment before his dissapearance and as he appeared his foot hovered just above the ground. The air was saturated, and so there was plenty of material to do what he was about to do.
Rising Water cutter
Taku slammed his slightly raised foot into the ground and immediately a thin wall of water shot up about six feet into the air and shot forward toward the Mizukage. It was so thing that it would slice through anything that it came across for the next eleven meters, falling off the side of the building after that. It was a simple move, and it was fast. Chances of a successful hit were about 13 percent by his calculations, but they could be wrong, and it mattered little. 13 percent was a terrible opportunity anyway, unless one was collecting on a loan. He expected Mikami to move and already his right hand drummed the finger tips upon the hilt of his sword on his left side, prepared to react to the counter attack.
***********
Spoiler:

• Name: Rising Water Cutter
• Rank: C
• Element: Water
• Requirements:Water Element
• Description: Taku will first make the hand signs and slam his foot on the ground. A thin wall of water will rise up from the ground in a straight line from his big toe. It will then shoot out in a straight line for up to 15 meters. It is thin enough and fast enough to rip straight through flesh and bone.
Since his opponent had no formal stance, attacking would be very easy as literally his entire body was one huge opening point. Ever since he'd fought Iko he found finding these openings very easy, but the key here was timing and getting around the oncoming attacks. Mikami reached near the back of his pocket and pulled out several shuriken as the opponents Suiton attack commenced. Either his opponent was confidennt in his chakra capabilities or he was too dumb and started using chakra too early. Dodging this attack was easy, done with a simple side step that left him out of range of the attack. Mikami noted the type of attack and the choice more specifically, something that would play out for later on.

With a several shuriken in his hand, Mikami threw them at key points at his opponents flawed stance. He aimed one shuriken at the sword directly, two others at his right and left shoulders and the remaining four at his hips and lower legs. They were all thrown with deadly speed and accuracy which now made it near impossible to deflect normally. He could now, no matter the speed move left, right, up, or down without being impaled by the shuriken. Jumping back was an option to give room, but since he would have to flex his legs before jumping back, the shuriken had been timed to prevent that as well. If he decided to jump back and do so, the shuriken aimed at his lower legs would hit and the ones at his hip would also. This was because of his lack of proper stance and also the time it actually took to move was being exploited at his opponent as well. Mikami kept a few tools in his hand at bay as he entered his stance. His body was turned right, with his right foot forward and his left foot behind it. His left hand lingered a shuriken pouch while his right hand held a few tools which had the palm facing towards his opponent. Mikami kept his gaze on his opponent wondering how he would react to the tools. He would most certainly need chakra to dodge the attack, or would he?

_________________
"When I'm done with you and your pathetic shortcomings I'm going to saunter right on over to everyone and everything you have ever cared about and extinguish their lives slowly and painfully... Then I'm coming back for YOU." - Sally
A skirt to the side, one of the highly predictable and most expected out comes. It was true he had basically just wasted the chakra needed for that attack. However, what matter was it to him, a chakra god, wasting away a C rank amount of chakra. Pitiful. It was simply a move that got the fight started. He wanted to spur the opponent into action. And thus the battle had commenced, and Mikami acted accordingly. His response was quick and accurate. Taku could tell each projectiles aim as he read the chakra in his arm as the motions were to quick for him to track with plain eye sight, and where he released each one. It was a coordinated attack, planed on taking him out. This attack would have been highly effective, if not for one small thing. Taku was still 10 meters away, a little over 30 feet, plus calculating in the time that it would take to throw each and the time to get to him, he had plenty of time to react, though he could not move away. He would stay still, and take the attack up front and bluntly.
In one deft motion he made his move. His right foot swept across the ground loosely behind him and he dropped to his knee of the same leg. This did two things to quickly make him a smaller target with only one act. First it turned hiim into a wide targer, to a thiner one, by twisting him to the side. The whole act had been done with hip power, which any warrior worth there salt, knew every power for an effective attack or movement should come from, otherwise it was only half as effective. Also it cut his height into about half. To top that off, he also quickly drew his sword with little effort and brought it down with the rest of his body. It all seemed like water, it was so fluid, it seemed natural. With Taku, no opening was an opening at all, because he was so quick to switch, so fast to react in his mind, his genius soaring off the charts. He was the true shinobi in every way, and he could not be defeated, especially at such a sad attempt. Originally he had had 7 shurkien to deal with. Now he had only three. The one aimed for his sword was now in perfect alignment with his head, the one aimed for his hip at his neck, and the one for his lower leg, still aiming for its original destination. All the others were no longer an issue due to his much smaller stature. To end it all, he made a simple flick of his wrist and his sword spun around, timing perfectly to knock the projectiles out of the air with the blade, catching them all and sending them off in other directions to impale the building top.
The sword again pointed down, and at the end of the arc, it dropped from his hand and stuck into the roof by only a few inches of the blade. With eyes locked on Mikamis body, sutdying the core of his physique for any sign of movement, his Oniryuoken blazing with life, his hand came together forming the three hand signs for the oncoming technique as his right foot which was straight up toe to heel, snapped back, slamming onto the ground as he pulsated chakra through his leg and along the earth. His body raised slightly as his foot snapped back, but only by an inch or so.
Pillar of Generations
By the time he spoke, the chakra had already moved in a straight line from his foot to under Mikami's at the postion he stood. In the next moment, a pillar of chakra would raise up and around the Mizukage, clogging off all his tenketsu points for some time, making him temporarily unable to use anything but genjutsu or simple taijutsu and weaponary attacks. Unless he could some how manage to move quick enough to not get caught by it, with out up being an option, if he even realized what was happening, which was very unlikely being that his movements had been so subtle and the time it would take to piece together the full concept on Mikami's part, would probably be more then it would take for the jutsu to activate. He had less then a second, but was he capable of pulling off such a feat against the impossible odds.
**************
Spoiler:

• Name: Pillar of Generations
• Rank: B
• Element: N/A
• Requirements: Sookato Clan
• Description: Using this jutsu, Taku will surge chakra through his feet and along the ground towards an opponent. This is one of the few non-destructive sookato techniques. When it reaches the feet of the target, a shimmering circle will light up around them and then shoot a veil of chakra straight up about 5 meters, (roughly 15 feet), high. Anything cot in it will have its tenketsu points (chakra points), clogged with sookato chakra quickly removing any ability to utilize chakra for jutsu in the first two posts. After that it will have disipated enough to where jutsu of C rank jutsu can be used on the third post after being hit. On the fifth post it disipates more allowing them to use enough chakra for a B ranked attack. After the Seventh post, the clogging is completely gone and any jutsu can be used normally. The chakra can be remove through certain jutsu such as the Rotation technique of the Hyuuga clan by surging pure chakra through it to push it out.
Spoiler:

OOC: No ship, it's my old style this time. Just like Yoshimo vs Taku. I swear on my ancestors graves.
IC: Mikami had little time to react to the rushing chakra that he could feel coming towards him, but it was simple to do so, there was a move he could use to get out of the attack with nearly no chakra consumption. Mikami prepared his body for such and what would appear next would simply be a feat like none other. His body rush forwards, instantly as if some unknown force was pushing him in that direction. As soon as he skidded to a slight halt, he reached for the tools in his back and pulled out 15 mini kunai, all grouped together, stacked on top of one another. There were several explosive notes on the back of them. With near no time between his movement, Mikami threw them directly at his opponent with great speed. Nothing the opponent wouldn't be able to see an react to, but definitely something that showed off his arm.
The attack exploded into what was better known as shrapnel and tons of it. The mini kunai couldn't penetrate deep, they weren't made out of solid material and they were hollow in the inside. With near fifteen of them, the attack range went from extremely narrow to extremely wide, how his opponent was going to escape the massive amount of tiny shrapnel that could rip at his sides, Mikami had no knowledge.
He had not forgot about he opponents last at all. The chakra had came from the ground of course, so there was a chance that the opponent had the ability to switch directions, or possibly use the same attack again with his other foot. So to combat that, he moved quickly five meters to his right, while drawing a kunai at the same time to deflect any oncoming attacks from that area. His chakras were filling the area and Mikami could feel it. He had to have belonged to some type of clan, or had a bloodline, or be some type of Jinchuuriki. Had Mikami ate too much before the fight, he would have vomited.
Keeping his eyes on his open and on his opponent, he prepped a jutsu, just in case he needed to use it.

_________________
"When I'm done with you and your pathetic shortcomings I'm going to saunter right on over to everyone and everything you have ever cared about and extinguish their lives slowly and painfully... Then I'm coming back for YOU." - Sally
Taku kept his eyes open, and his senses focused as his block was complete and the opponent swiftly made a follow up to it as well as evading the powerful blocker jutsu he had just tried to instill upon the Mizukage. He had just learned a very valuable piece of information. While there was no way he was a full on sensory type ninja. He was at least in tuned with his senses enough to be able to tell when chakra was coming his way, even if he could not detect exactly what it was or its purpose. However, at such a close range, and being that chakra was such a fast acting substance, there had been no way for Mikami to move unless he had known that it was coming. The time between the circle of light shimmering up and blast of chakra shooting up was to small a time frame for even a taijutsu specialist to recognize, and he had been way to subtle with his movements for it to be known otherwise. That was what he had been searching to know. At this point he was testing the opponents capabilities. He had that luxury thanks to his vast chakra reserves. Already he had about 7 and a half percent of his total chakra pool, but he still had more then Mikami did by a large margin, who was still at near 100%.

Then with the following attack, the several kunai followed by the obvious use of explosive tags to make a quick shrapnel effect led him to another conclusion. Thus far, despite Taku's engagements, he had settled for dodging and using weapons. He would have to assume he was facing a taijutsu main type of ninja, as by now, whether it was necessary or not, some sort of ninjutsu usage would have occurred by now, but still he continued to not. He took both key points of information and locked them in his brain, beginning to create a profile of his opponent in his head which would probably never ever be erased until the man died.

His sword was still stuck into the ground so it was already in position, his hands just a few inches above that. Quickly they dropped down and grasped the hilt, as he began to concentrate on it. With a flare, a smoky line of black trailed down the edge of the blade until it reached where the tip was embedded into the roof top. With sufficient ease he channeled the chakra through the center of the two layers that supported the roof from the inside, unseen by Mikami, who would be able to tell that some sort of activity was going on. With a quick change in his flow, the chakra went from docile to instantly fierce, corroding away whatever it was in contact, and then just as quickly, he retracted it. With out a seconds notice, the roof collapsed along with Taku, who disappeared down to the top floor of the building, landing on expensive tiling with a thump, cracking a few of them where his foot and knee had landed.

He took no time to glance around the room. He had just dodged a swift attack, and he was quickly beginning to realize that Mikami's style relied heavily on speed and power, but how good was his stamina, how long could he last was the real question. He kept his Oniryouken trained where the opponent was, keeping alert to any movements he might make. He was not willing to release any more of his jutsu at this time, but letting Mikami just do as he please with out putting any pressure on him would be a mistake. He couldnt help but noticing there were several wooden crates in stacks in most of this floor, Taku standing in the walk way. He knew what he had to do as he ran down the small path way created by the many walls of crates and then stopped, now directly under his opponent.

He quickly turned on his heel, now facing a wall of crates stacked about 10 feet high. There was maybe an inch or two between it and the celling. Following that was about a 10 inches of roof. He still had his sword in hand. What he was intending was clear. Pushing off from where he stood, he rushed at the wall and sticking his left foot out, he latched onto the wall of crates and proceeded to run straight up the side of the wooden surfaces, gaining speed and momentum as he ran directly under where Mikami stood.

As he neared, he repositioned his diamond coated sword to point straight up, but keeping it lowered and in tight with his body, the tip just barely past the top of his head. He took a drastic leap, pushing away from the crates so he came at a bit of an angle. He would come from the Mizukages left side, but only the sword. It would with ease pierce through roof, and hopefully into the calf of his foe, scoring a blow worth celebrating.
There was no way his eyes or body were just going to stay motionless during that entire attack. With the roof collapsing, Mikami had already prepared himself by prepping ki at his feet, he would not jump early or late, but he would jump away from the roof with a suitable time frame that would allow him to move. Instead, he kept his eyes on his opponent and kept his hands ready for any movement at all, he could not attack just yet, nor would he attempt to at all. As his opponent went out of sight, Mikami realized that sticking around would be useless and the roof was drawing ever closer. In his mind, he'd figured what could be the opponents path of attack, or at least the most suitable place to attack him.

So the moment his opponent had disappeared away from his sight, Mikami took towards building in front of him. With quick agility, he maneuvered around the falling rocks, gripping on to suitable pillars with monkey like dexterity and flexibility. Hitting the ground with a light thud, he took to a building in front of him, higher than the next one. Running straight up the edge with great speed, he bounced up between the building and the one adjacent to it, making his way to the top of the roof in no time. He was now about 30 meters away from his original spot and about 20 meters higher. Focusing his on his senses and spirit, Mikami initiated a jutsu that would alert him of any movement in his area. 私は上何も妨げない水である. Keeping his eyes alert, Mikami prepared to move the battle away. His plan would have to be put on hiatus, there were too many buildings in the way. Behind him was a large cliff, which dropped out onto the ocean below where small islands littered in the distance. If his opponent wanted to fight, he would have to take it somewhere where they could have more flex room.

_________________
"When I'm done with you and your pathetic shortcomings I'm going to saunter right on over to everyone and everything you have ever cared about and extinguish their lives slowly and painfully... Then I'm coming back for YOU." - Sally
Taku thanked the gods for the sword in his hand. It was one of a kind, with no others quite like it. The blade itself was crafted from the finest obsidian, crafted by the best to create a sword just like any other with a one of a kind black and Smokey look. To top it off they had lathered the very brittle material with a thin layer of diamond for reinforcement, turning it into one of the most beautiful swords Taku had ever seen, and also one of the most powerful with out having some sort of hidden power. It could cut through any basic material with the right force and velocity. And so it went straight through the wood and brick as he flew towards, sliding easily into the air above...aimed towards................nothing. And so it had been planned. It had worked. The opponent had moved from his spot, getting him mobile, and allowing Taku ample opportunity to react and get his leg up.As the sword finished sliding through the material, he swung his hips upward, bringing his feet to the sealing and at the same time removing the sword, now standing upside down on the roof. He did not hesitate as he ran back for the hole which he had created, only a few feet wide at best. It was not long before he once again stood upon the roof, emerging back into the dim light from the dark corridors of the warehouse below.
He quickly pinpointed Mikamis position, noting that he was moving south and along another building moving toward a cove at the edge of town. Interesting enough. Taku very much wanted to stay in the town and use this city jungle to his advantage. Out in the open of a cove would take away covering, which he operated best in. However, at the cover, performing water jutsu would be easier. Then again, he had already determined that Mikami was a physical body type of ninja, and giving him open angles to attack from with no down way out would be slightly foolish. However, that is where the opponent was headed, so maybe he could compromise with him, and turn it to his advantage. He would fight near the cove, but not actually in it, sticking to the city jungle as he had dubbed it. The one thing he would not do was to allow his opponent to control the flow of battle.
He ran along the edge of the building that Mikami stood upon, running around to the back side from where there starting point had been. That was until he was about half way around the back wall. As he ran, he placed a hand upon his face and focused chakra to it, about as much as the average A ranked jutsu would cost. It was a pity he was using this so early in the game. He silently whispered "Jutlin" and pulled his hand forward. As he did, a glowing figure appeared upon his face, shimmering ever so lightly. Now what sat instead of the face he usually wore so proudly was a black and red mask, sinister in appearance. for now it would serve no real purpose, but in due time it would. He was now between Mikamis position and the cove, and now to make his move. Quickly he ran up the side of the building and straight up in to the air, his momentum carrying him two feet up above the roof top. He stared at Mikamis back, who was still facing the direction where they had been fighting previously. Taku now had something that could corner his opponent with ease when use correctly. Perhaps now he would sit comfortably with going to the cove, but if Mikami wanted to get there, he would have to get past Taku first.
**************
Name:
Jutlin (Mask of Corruption)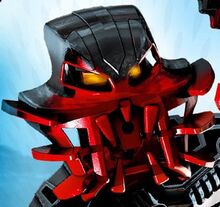 Rank:
A
Type:
Mask/Supplementary
Natural Abilities:
Jutlin is a very powerful and direct mask. It has in essence, the ability to crumble an object of inorganic matter into dust. This excludes any living thing or object containing chakra. The way it works is through vibrations directed by the way the mask is facing, generally through th eyes of the mask specifically. Now these vibrations hit specifically the point that the mask is focused on and are so fast and extreme that they are unseen and unnoticeable aside from the effect they have on the object. From the central point, the object will begin to crumble to dust and move outward in a circular direction. This process will continue until either the item in question is completely crumbled or if the power is disrupted in some way. The bearer must have full concentration on the item at hand and can not use jutsu while this is hapening or other wise fight in anyway while the power is activated. If the mask moves out of line with the object, the process will stop. This mask has no post or use, but it requires an A ranked amount of chakra to activate the power, every time it is used. The rate of this is about a 1 meter of "corruption" in diameter every post.
His jutsu, was nothing but a radar that extended over 5m meters around his body. Of course he could smell his opponent coming up close, but he could also sense that something else was added. At much as it hurt him that he couldn't get close to his opponent for any taijutsu moves, Mikami had to admit, that even with his ki he was sorely outmatched when it came to chakra amount. The only thing he was holding on to his senses, at least for now. He needed to move the battle.

Instead of attacking, Mikami would have to keep playing dodge until he could get positioned accurately. So, the moment he'd realized his opponent was upon him and specifically at his back, Mikami reached down for his pockets as he fired off a move that would no doubt look very weird for his opponent. He ran forward, and slightly towards the left and took up and back in a jump. As he grabbed four weapons, two shuriken and two explosive tags, he jumped up and threw his head back, which would give the illusion of a back flip. Knowing that the jump was an opening, Mikami waited until his body was mostly upside down and threw the shuriken towards his opponents hips once more. Since they were closer, they would be harder to react to, but the opponent seemed smart enough to dodge. These kunai were different and both held a tagged note and a ball on them. He threw them up as he kicked them forward with his feet while now perfectly upside down before landing on the edge of the building with his hands and quickly regrouping himself for a speed stance with his small position, body turned to the side, right leg forward, left leg behind and hands busy. The attack was simple, the shuriken would serve as a distraction and the balls on the kunai were flash bombs. They would pack a bang due to the exploding tags. As the sparking tags and shuriken flew towards his opponent, Mikami sent the needed chakra to the tags and bombs. If the flash sparked for one moment, his opponent could expect Mikami to be over in the cove, waiting.

_________________
"When I'm done with you and your pathetic shortcomings I'm going to saunter right on over to everyone and everything you have ever cared about and extinguish their lives slowly and painfully... Then I'm coming back for YOU." - Sally

---
Permissions in this forum:
You
cannot
reply to topics in this forum