Summoned Creature or Item:
Sanzen (B ranked Crow)
Appearance:
Description:
The name of Sanzen means many, and so is the focal point of its unique ability. For starters, it is vastly large (as shown in the picture above), and is easily large enough to carry up to five people on it for transportation. Its core ability through is its ability to branch off into several, smaller crows, much as Taizen is able to produce crows from his own body. However, it can also break its entire body down into a giant flock of crows as well totalling up to about 100 crows. It can produce ten crows from its body and maintin its full shape. If it produces anymore then that, it must disperse into the entire flock. Once a crow is simply harmed in any way, it will disperse and return to the crow world. This does not count for the larger crow as a full animal. It can be killed while in this form.
This summon has no jutsu of its own, but Taizen can use it as a medium for genjutsu. Every single one of the crows can be used as a medium to cast genjutsu from via the eyes by Taizen. This includes the larger crow when the flock becomes one. It also has the capability of creating decent gales of wind by flapping its wings while in the full form. this does nothing on jutsu, only on thrown tools and weapons or people, being able to push them back wards.
Weakness:
It has no jutsu of its own. Can also only be kept out for 15 posts before it will disappear back to the crow world (this does not apply for when being used for travel, only battle). Also individual crows when harmed and return to the crow world, can not come back for the duration of the summon.
Summoned Creature or Item:
Naito ( A ranked Crow)
Appearance: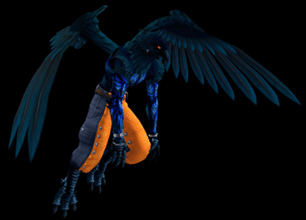 Description:
Naito is a human crow hybrid. No one is entirely sure how this is happen, all that is known is that he is extremely old, and fairly powerful. His main skill comes from his speed which is at an astonishing 5 and his force 3.5 and stamina 4. He is also very proficient in taijutsu (3) and genjutsu (4), with a little bit of ninjutsu. Is is speculated that he once was a shinobi with the crow contract who immersed himself so heavily in crow jutsu that he became one of the summons himself. He has several capabilities which makes him one of the best crow summons to have, making him almost S rank.
For starters his body is covered head to toe with feathers. All of these are as hard as steel, and almost impossible to pierce. It would take a jutsu of B or higher to do any real damage. Any jutsu of a C rank or lower will only knock him back wards and do minimum damage. The exception to this is piercing attacks such as the wind blade jutsu, which can penetrate through the defense and do normal damage.
His Wings are also covered in the feathers and are more densely arranged, which provides an even greater defense. This has the same basic capabilities as the feather armor on his body except nullifying the piercing exception. This does not cancel out jutsu of C rank/below, but it softens the blow greatly. The wings also give him the ability to fly, and his great strength allows him to carry others with him as well.He can carry three, one on his back and one in each arm.
Also like Taizen, he has the ability to produce crows from his body. In fact, he knows all of the Crow jutsu that Taizen knows, and has the chakra pool equating to be able to cast 3 A rank jutsu. This equates to 6 B rank or 12 C rank, and 24 D rank. He also has the ability to shoot feathers from his wings which act as his kunai at the cost of a C rank amounts worth of chakra. Doing so releases 10 of these feathers, five from each side. He can lower this to only one wing and five by only providing a D ranks worth of chakra. He can increase it by ten by providing a B ranks, and Can increase it further to 40 Feathers at once by providing an A ranks worth.
He also has the ability to cast genjutsu from his eyes. this is restricted to only genjutsu that Taizen knows. When first summoned, the two will lock eyes and Naito's piercing yellow crow eyes will instantly gain any information that Taizen knows. This ability can only be used on their summoner via there connection via the contract. All these genjutsu cost the same amount of chakra as when Taizen uses them.
Weakness:
Naito's main weakness is that he can only be kept out for 10 posts before having to return to the land of the crows if used in battle. He is also weak against jutsu with piercing abilities (most Raiton jutsu and a many wind jutsu primarily)
Kumo Jounin





Posts

: 74


Join date

: 2010-01-13




_________________
"When I'm done with you and your pathetic shortcomings I'm going to saunter right on over to everyone and everything you have ever cared about and extinguish their lives slowly and painfully... Then I'm coming back for YOU." - Sally
Konoha Chunnin





Posts

: 1615


Join date

: 2009-07-14


Location

: With Sally





Similar topics
---
Permissions in this forum:
You
cannot
reply to topics in this forum